Friday, 11th December 2015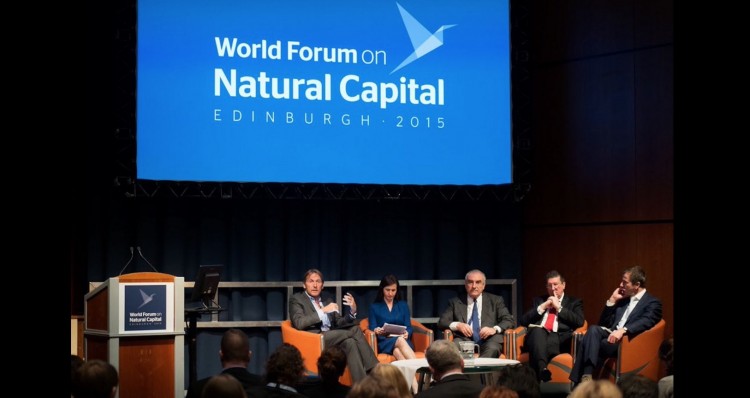 The World Forum defines Natural Capital as 'the world's stocks of natural assets which include geology, soil, air, water and all living things.  It is from this Natural Capital that humans derive a wide range of services, often called ecosystem services, which make human life possible.' OPERAs colleague Rachel Chisholm gives some highlights from the event.
In November Edinburgh was home to the second World Forum on Natural Capital, a bi-annual event organized by ESCom partner Scottish Wildlife Trust (SWT).  The event truly was world class with an impressive line up of speakers and over 600 delegates from 45 countries.
During the opening plenary delegates heard from SWT's Patron HRH Prince Charles via a low-carbon video message in which he called upon business leaders and governments to take swift and decisive action to protect the planet's stock of natural assets.
Scotland's First Minister Nicola Sturgeon's opening address was an impressive check list of initiatives and goals including the launch of the Peatland Code, 2020 Challenge for Scotland's Biodiversity, the draft Land Use Strategy  and a nod to the 2050 Young Leaders Programme.  As a Scot is was hard to not feel galvanized by her call for natural capital to inform discussion at COP21, and hopeful of her pledge for a sustainable approach to Scotland's economic growth.
Inger Andersen, Director-General of the International Union for Conservation of Nature (IUCN) made strong links between climate change and natural capital.  In light of the Sustainable Development Goals (SDG's) recognition of nature as fundamental to human wellbeing, natural capital would be our 'single greatest ally to defend vulnerable communities from the onslaught of more frequent storms, flood and drought'.
With four plenary sessions and 24 interactive breakouts the conference was organized around four main streams; Understanding and Managing Risks, Innovation and Tools, Focus on Finance and Investment and Policy Dialogues, all with an impressive line up of speakers, panelists and chairs.    Running in parallel was the Scottish Forum on Natural Capital stream, chaired by ESCom member Alison Hester, Head of Theme: Safeguarding Natural Capital at James Hutton Institute.
What was notable was the global scale and ambition of the ecosystem services and natural capital initiatives, with nearly every presentation from business leaders or environmental film makers referencing the SDG's and the Paris UN Climate Conference.   Throughout the event delegates were encouraged to sign an open letter calling upon global leaders to safeguard our natural capital, and the launch of the Natural Capital Coalition Protocol consultation was warmly welcomed, with over 150 companies invloved the potential for building concensus around collaborative solutions is gathering momentum.   
A warm plenary mention from SWT Chief Executive Jonny Hughes acknowledged the importance of  networks like ESCom that provide knowledge exchange opportunities for scientists, policy makers, NGO's and business helping them to move natural capital concept into practice, a reference to his recent participation in ESCom Series Natural Capital(ism) debate