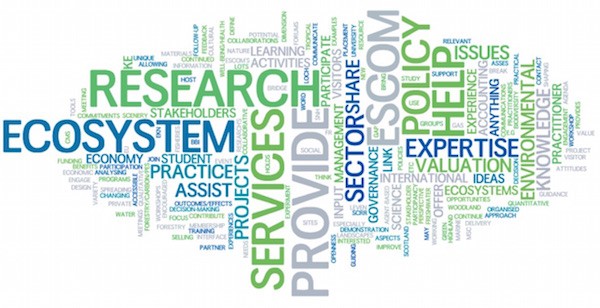 A vibrant community of practice for ecosystem services research, decision-making and natural resource management in Scotland, Ecosystem Services Community Scotland (ESCom) encourages dialogue between Science, Policy and Practice, helps to align Scottish ecosystem services research and organises and promote events to support ecosystem services knowledge exchange.
In May 2015 the second annual ESCom conference held in ECCI attracted over 80 delegates from across Scotland, and beyond to hear from lead practitioners, scientists and policy makers working across a diversity of interdisciplinary activities in Scotland. Delegates also took part in participant driven workshops that helped encourage knowledge exchange and collaboration.
ESCom is actively supported by University of Edinburgh, Centre for Ecology & Hydrology, Forest Research, James Hutton Institute, SRUC, SEPA, Scottish Wildlife Trust and The Scottish Government. The School of Geosciences plays a lead role in ESCom, staff involved include Marc Metzger, Calum Brown, Rachel Chisholm, and Mark Rounsevell.