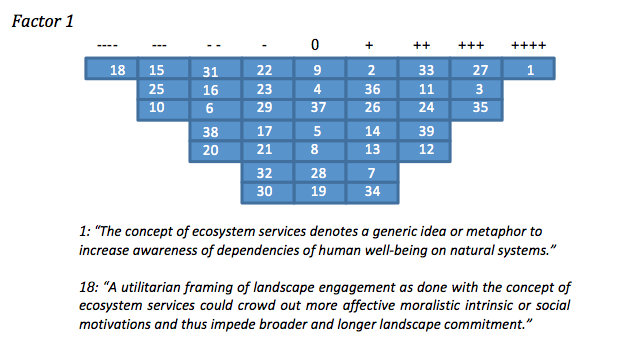 Since I have introduced the research for my master's thesis in the blog entry "The ecosystem services discourse" on February 27th, more than two months have passed and I am reaching the final phase in completing my thesis work.
Thanks to the support of so many OPERAs participants that were willing to take part in my Qstudy, I was able to collect 33 Qsorts in total. These sorts were the outcome of an online exercise, in which people were asked to sort 39 statements concerning the ecosystem services concept according to their own perspective.
The underlying assumption in Qmethodology is that the number of perspectives on a topic is limited and that the sorting exercise can reveal what those are and how they can be characterised. While the number of perspectives is initially identified with the help of statistical factor analysis, the subsequent characterisation is subject to the researcher's interpretation.
For OPERAs I was able to filter out five pre-dominant perspectives, "ideal types" in Max Weber's words, which all the sorts could be categorised into. None of these perspectives had less than five sorts identified with it. In order to interpret the data, I first compared the sorts and specifically focused on the statements ranked at the extremes on either side of the curve. In addition to that, I evaluated the comments that I asked participants to leave after having conducted the sorting exercise. Finally, I interlaced these results with insights from follow-up interviews conducted with people that represented one of the five perspectives (according to their factor loadings) most strongly. The interviews turned out to be essential for revealing some of the rationales behind the sorts and for highlighting the most dominant differences as well as consensus points between perspectives.
Interim Conclusion
"[This study] confirmed that ecosystem services can be interpreted in different manners and lead me to think perhaps that is OK. Maybe we should not strive towards one over-arching definition but rather recognize its different meaning in different contexts and advocate pluralism instead of unification of ecosystem services" (Comment from Qstudy participant).
My most important impression is that yes, there are significant differences in perspectives and that many people are aware of the existence of some sort of differences. Interestingly though, most people see the diversity of perspectives as not only being "ok" but even "advantageous" as long as they don't lead to misunderstandings in collaboration. The question therefore is less how to avoid differences but rather how to make sure to make the most of diversity while reducing the potential barriers that might arise from it. Therefore, the major task seems to be the OPERAtionalisation of exactly this question:
How to ensure effective interdisciplinary communication and collaboration in OPERAs in order to prepare the ground for the transdisciplinary challenges ahead?